Huma Adedin's Family Business
This entire election story couldn't be more interesting if it were written by Vince Flynn – billionaire playboy against a corrupt former first lady. In this case real life is much more interesting than fiction. I realize this is not your typical conservative verses liberal election and that doesn't sit well with most folks but I have to say I'm kind of into it. I think I'm driving my wife a little nuts.
I don't believe FBI Director James Comey would insert himself and the FBI back into this political election unless he discovered something critical.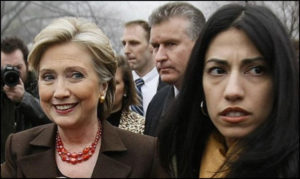 Here's one for you conspiracy theorist. What if  Huma was caught sharing classified information with the Saudis on one of Anthony Weiner's devices?
Huma has a long history and connection to the Journal of Muslim Minority Affairs. She was the assistant editor from 1996 to 2008. It's actually her family business. Huma's father founded the Institute of Muslim Minority Affairs, a think tank, and became the first editor of its Journal of Muslim Minority Affairs.
The journals' mission is to shed light on minority Muslim communities around the world in the hope of securing the legitimate rights of these communities. On the surface this appears to be a good cause however the journal has been connected to the Saudis and Abdullah Omar Nasseef.
Nasseef is currently the Secretary-General of the International Islamic Council for Dawa and Relief, which are both associated with the global Muslim Brotherhood, Hamas fundraising and support of Al Qaeda. It is common knowledge Saudi Arabia funds Islamic Extremism. The various links are complex but are hard to outright deny.
Huma was born in Kalamazoo MI but lived in Saudi Arabia from the time she was two and her mother still lives there. Is there still a Saudi connection? Could she have been passing classified information to the Saudi's on the same device her creepy husband was using to sext underage girls?
Why aren't Huma's connections being discussed in the media? If there is nothing to these connections she has nothing to hide. She is more loyal to her family and her family business than HRC. Again very bad judgement by HRC.
Neither Vince Flynn nor James Patterson could have written this story any more interesting.